Stegt kulmule
med blomkål og appelsin
Af Nikolaj Kirk og Mikkel Maarbjerg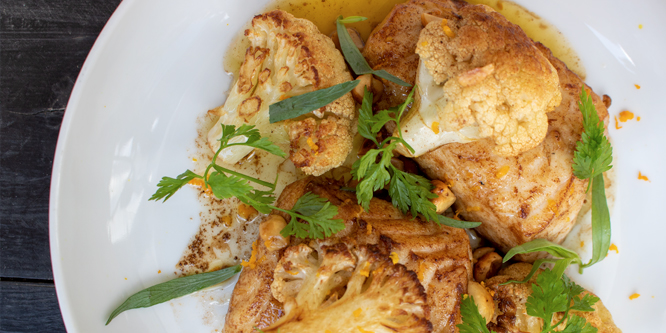 2 personer     
20 minutter
Tag først blomkålen og skyld den godt. Pluk nogle passende buketter ud af den så du har et par stykker til hver. Tag en pande og sæt på komfuret, kom lidt olivenolie på og læg blomkålsbuketterne herpå, lad dem stege let gyldne i olien.
Kulmulen krydders nu med salt og friskkværnet peber. Læg den i panden til blomkålen og tilsæt smørret.
Lad det hele stege sammen nogle minutter. Tilsæt så hasselnødder, du har hakket groft.
Riv lidt appelsinskal fra og pres så lidt af appelsinsaften direkte ned på panden. Lad det simre sammen og drys så skallen fra appelsinen ud over.
Pluk kørvel og estragon groft.
Anret nu fisken på tallerkener og fordel blomkål og saucen ud over, drys med krydderurter og spis derefter.
360 g. kulmule filet, uden skin og ben
50 g. smør
2 spsk. olivenolie
¼ blomkål
2 spsk. hasselnødder, afskallet
1 appelsin
2 kviste kørvel
2 kviste estragon
De to kokke Nikolaj Kirk og Mikkel Maabjerg driver sammen Kirk + Maabjerg, der både fungerer som en catering- og foredragsvirksomhed. I deres foredrag taler de to kokke blandt andet om kvalitet og bæredygtighed, og deres fælles mission er at højne madkvaliteten i Danmark.
Kulmulen
Bliv klogere på kulmulen og andre fisk, som ender på din tallerken