Sea bream fillet
with prawns in kohlrabi cream
by Uroš Štefelin
SLOVENIA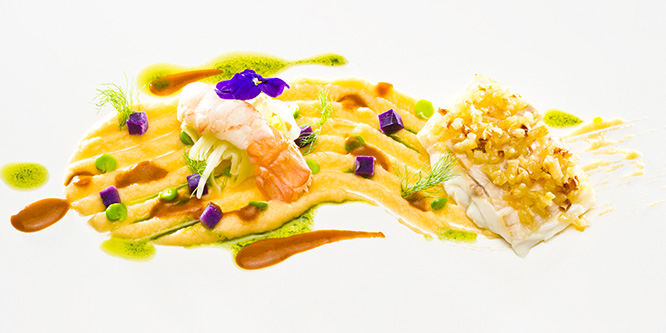 4 people
60 minutes
Cut the kohlrabi and the 2 potatoes into small pieces, and cook them in a pot with boiling water until tender (approximately 10-15 minutes). Season them with salt and pepper and mash them all together until smooth.
Cover the sea bream fillets with grated cheese and hazelnuts and bake them skin-side down.
Cook the purple potato and cut it into small cubes, then cook the peas. Blanch the fennel and marinate it with orange juice, lemon juice and white pepper.
Warm up the prawns just before serving.
Garnish with chive oil and prawn sauce.
2 sea bream fillets
4 shrimps
½ kohlrabi
2 potatoes
1 purple potato
100g hazelnuts
100g cheese
30g peas
100g fennel
Juice of oranges and lemons
White pepper
Chive oil
Prawn sauce
Uroš Štefelin started cooking at an early age and gained his experience at the Vila Bled in Slovenia and by leading the kitchen of Bled Castle's restaurant.
In 2009, with a well-trained team, he brought the restaurant 1906 in Hotel Triglav back to life, after it had been closed for 20 years.
In 2013, he decided to open his own restaurant at Vila Podvin, which serves traditional Slovenian cuisine with Štefelin's personal 21st century touch.
Sea bream's story
Learn more about sea bream and other stories beneath your plate.