Mussels
with chorizo and saffron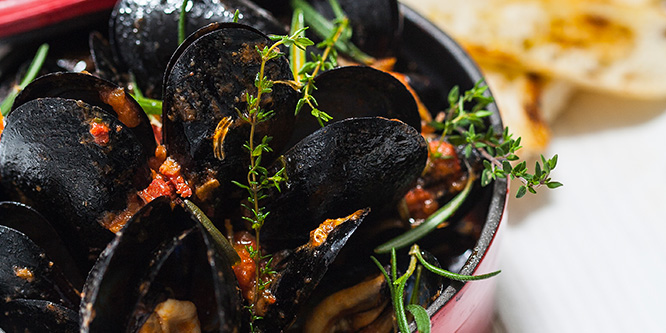 2 people
45 minutes
In a large pot over medium heat, fry the chorizo with olive oil, garlic and tomato paste. Cook, stirring occasionally, until the chorizo is cooked through, then add the fresh chopped tomatoes, saffron, thyme, rosemary and basil.
Add the mussels and the white wine, and let the wine evaporate. If needed, pour some fish broth and cook until all the mussels open. Discard any mussels that do not open, and add the lemon zest to the rest.
Serve immediately with some bread. You'll want to soak up every last drop!
1kg fresh mussels, scrubbed and debearded
100g chorizo
a pinch of saffron
5 fresh tomatoes, chopped
1 tsp tomato paste
2 garlic cloves
1 tsp thyme
1 tsp rosemary
fresh basil leaves
2/3 cup olive oil
zest of 1 lemon
1 cup white wine
Sea salt (optional)
When she was a little girl, Ana loved to discover dishes and new ingredients in her mother's kitchen. Her ambitious nature led her to explore and perfect her culinary skills and obtain the elite title of "Master Chef". Ana has worked with the world's top master chefs, and in 2012, she earned the title "Chef de Cuisine" at The Esplanade, Zagreb's most prestigious hotel, where she has created dishes for various royal families and celebrities such as Prince Albert of Monaco, David Beckham and Shakira.
Mussels' story
Learn more about mussels and other stories beneath your plate.