Horse mackerel
in cumin with carrots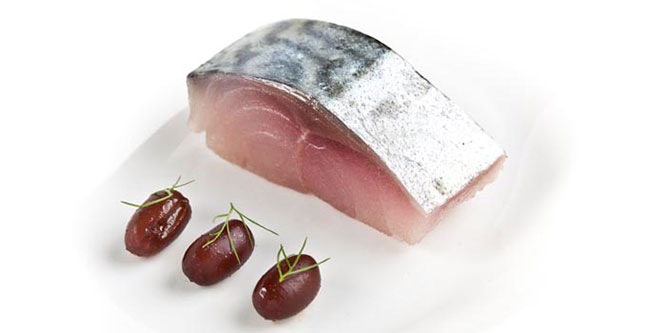 4 people
45 minutes
Mackerels
Slice the mackerel loins; remove the fish bones and introduce the slices in coarse salt for 8 minutes. Wash and dry the slices.
Marinade
In a mortar. Prepare mash with garlic, salt and cumin and add all liquid ingredients, following the order indicated above. Add the olive oil at the end and emulsify with a whisk. Add cumin to taste. Place the mackerel loins in a vacuum bag with a spoonful of the marinade. (Keep cool for 48 hours). Take the mackerel loins and cut them in 2 cm slices, only use the centre of the loin, removing the
pellicle on the skin of the fish first.
Garnish
Place the carrots leaves in water with ice. Dice the carrots. Blanch them and place in cold brine. Cut carrots into thin strips with a peeler and roll them.
Serving instructions
Place the horse mackerel fillets on a plate. Place one carrot cube with a cumin seed on top between them. Open a carrot roll, like an accordion and place it on each fillet. Dry the carrot leaves, dip in olive oil and coat them with the wasabi and sesame seeds mix.
Mackerel
6 mackerels
Coarse salt
Marinade
1 tbsp salt
½ clove of garlic
Cumin seeds
50 g Sherry vinegar
100 g apple vinegar
50 g Antique Manzanilla
Sherry
50 g soy sauce
50 g extra virgin olive oil
500 g liquefied carrots
75 g ground cumin seeds
Garnish
Carrots with their leaves.
Sesame seeds bread with
wasabi.
Ángel León was born in Sevilla. He is known as the Chef of the Sea and has two Michelin stars. Considered as a pioneer in combining inventive culinary creations, surprising marine flavours with products exclusively from the sea, like plankton and cured seafood. After a long working life, In 2007 he decided to open his own restaurant, Aponiente, in Puerto de Santa Maria, Andalusia. He is a man whose life has always been linked to the sea. In 2004, he designed the "Clarimax" with the University of Cádiz, a machine that eliminates fat from stocks while maintaining purity of flavour, using a filter made of seaweed
Horse mackerel's story
Learn more about horse mackerel and other stories beneath your plate.