Confit cod
with dried tomatoes and apricots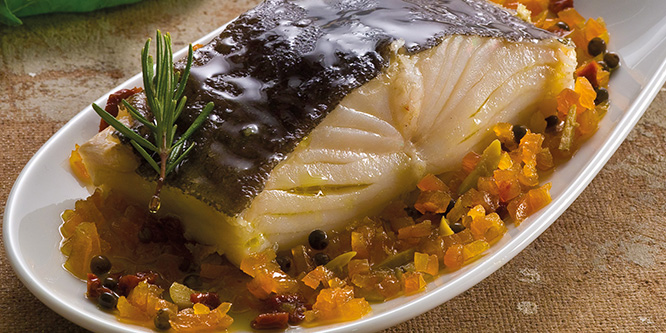 10 people
60 minutes
Place the cod on a baking tray, drizzle with extra virgin olive oil and garnish with dried tomatoes, apricots, olives, garlic, green pepper, salt and rosemary. Cover and bake in preheated oven until fish is done.
Meanwhile prepare the mashed potatoes.
In a big pot, heat olive oil with onions, garlic and leeks. Add the potatoes, chicken broth and milk, and cook over low heat until tender. Season with salt and pepper and mash everything together until smooth and fluffy.
Cut the spinach into fine strips and add to the potato puree.
Serve the cod on a portion of mashed potato, drizzle with the remaining confit sauce, and enjoy!
For the fish
2.5kg codfish
50g chopped dried tomatoes
50g chopped dried apricots
50g green olives
25g chopped garlic
5g green peppercorns
extra virgin olive oil
sea salt
rosemary sprigs
for the smashed potato
1.5kg cubed potatoes
20g chopped garlic
200g chopped onions
300g spinach leaves
150g chopped leeks
200ml chicken broth
1L milk
extra virgin olive oil
sea salt
Known for reinventing Portuguese cuisine, Vitor Sobral is an award-winning chef and a master at using common spices and flavors in new ways.
He has worked in many popular restaurants and is a gastronomic consultant for renowned Portuguese brands. Today, he owns two restaurants in Lisbon: Tasca da Esquina and Cervejaria da Esquina.
Cod's story
Learn more about cod and other stories beneath your plate.