Stegt blæksprutte
med tomat og krydderurter
Af Nikolaj Kirk og Mikkel Maarbjerg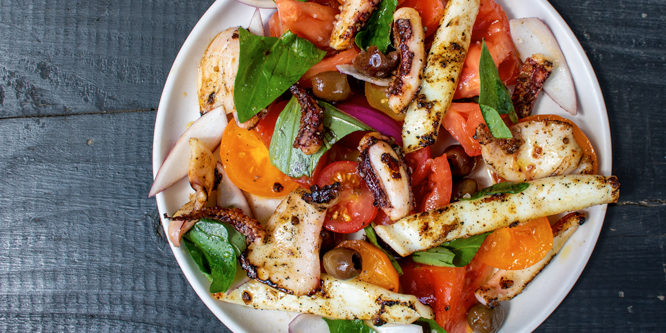 2 personer     
20 minutter
Vask tomaterne og skær dem i passende stykker. Pil løget og snit det i strimler.
Kom i en skål og krydder med salt og friskkværnet sort peber. Hæld 2 spsk. Olivenolie ved, sammen med æbleeddike samt citronsaft. Pluk basilikum groft og kom ved, bland det hele godt sammen.
Tag nu blæksprutten og skær den ned til strimler. Varm en pande godt op og kom resten af olien på. Når panden er rigtig varm, tilsæt så blæksprutten, og steg den sprød og gylden over det hele. Krydder med salt og friskkværnet peber.
Anret nu tomatsalaten på et fad og fordel den hårdtstegte blæksprutte på toppen, kom lidt frisk basilikum ved.
300 g. blæksprutte, istandgjort
4 spsk. olivenolie
10 blandede tomater
1 lille rødløg
12 sorte oliven
3-4 kviste basilikum
1 spsk. æbleeddike
Lidt citronsaft
Salt og peber
De to kokke Nikolaj Kirk og Mikkel Maabjerg driver sammen Kirk + Maabjerg, der både fungerer som en catering- og foredragsvirksomhed. I deres foredrag taler de to kokke blandt andet om kvalitet og bæredygtighed, og deres fælles mission er at højne madkvaliteten i Danmark.
Blæksprutten
Bliv klogere på blæksprutten og andre havdyr, som ender på din tallerken.